This Wednesday I was about to walk outside, when I started to hear the severe weather siren sounding. I started to get a bit confused, because while I was growing up these alarms only sounded in the summer (or maybe they sounded all year long and I was having too much fun at school to notice…). But then I realized that it was the first Wednesday of the month, and it was only a test. These alarms go off every month so that if there ever is severe weather we will be prepared to react to it is the best way possible.
It got me thinking about all the ways that we need to be prepared… from being ready for a everything (thank you Boy Scouts for that one):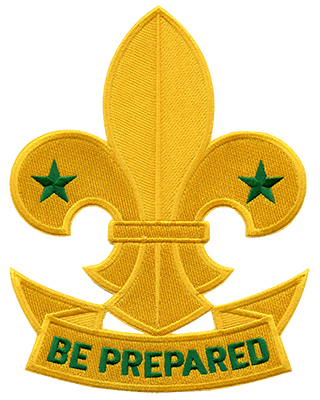 To getting ready for the death of the king…
To getting ready for the installment of a new king over a whole new earth:
5 He who was seated on the throne said, "I am making everything new!" Then he said, "Write this down, for these words are trustworthy and true."
Revelation 21:5
To getting ready for the moment when we will all join this new heavens and new earth:
51 Listen, I tell you a mystery: We will not all sleep, but we will all be changed — 52 in a flash, in the twinkling of an eye, at the last trumpet. For the trumpet will sound, the dead will be raised imperishable, and we will be changed.
1 Corinthians 15:51‭-‬52
Being ready is an idea that even Jesus asked His disciples to do in Matthew 25:1-13, the parable of the 10 virgins. Herein 5 of them were ready and got to go to the feast when the Bridegroom returned, while the other 5 weren't and were left out from the fun!
After my mind raced with all of these ideas, I got to thinking about how precious today is, because we only get it once.  After today is over, we will never experience it again. Am I prepared to face it? Am I ready to go out into this world that is full of hurting people who happen to be hurting others out of their pain? Am I ready to share the greatest news that I have ever heard with everyone I meet? Am I ready to talk to that one single person about the fact that Jesus is my Lord and Savior?
Am I ready?
I am reminded by Marshall Bruce Mathers III that I need to be ready because I only get one shot to do today, so I better be listening to the music of God so that I can be ready… honestly, it might be better to let him tell you:
You better lose yourself in the music, the moment
You own it, you better never let it go
You only get one shot, do not miss your chance to blow
This opportunity comes once in a lifetime you better
Lose Yourself, by Eminem
Luckily for us we get a reminder every month, on the first Wednesday of the month, at 1 PM, that we need to be prepared.  Are you?